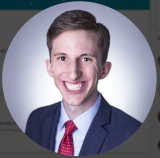 Awards
Kate Hevner Mueller Outstanding Senior Award (2019)
About Lucas Adams
Lucas Adams, of Bloomington, Indiana, is on track to complete a B.S. from the School of Public Affairs in 2019. Adams is a member of the Hutton Honors College, the Washington Leadership Program, SPEA Dean's Student Advisory Council, Civic Leaders Center, and Crimson Cupboard. He was one of 21 seniors to receive the Kate Hevner Mueller Award in 2019.
Adams' professional portfolio includes an internship in the fall of 2017 in the Office of the Mayor in Bloomington, Indiana, where he referred constituents to local resources, and executed a communications strategy through documents for public release in an effort to increase high quality interactions between the constituents and the mayor. He also interned in the office of U.S. Senator Todd Young during the fall semester of 2017. While in Washington, D.C., he conducted media research, and articulated the Senator's position to over 3,000 constituents by phone, compiling their comments and concerns. In the spring of 2018, through the U.S. State Department he served as a political intern on a U.S. Mission to the European Union. While in Belgium, he synthesized newly-gathered intelligence to disseminate more broadly to the U.S. intelligence community.
As a graduate assistant in the School of Public and Environmental Affairs, he created journalistic and promotional materials to advertise SPEA's student groups and publications. Adams is also concurrently taking coursework towards completion of the Master's of Public Affairs (MPA) in 2020.