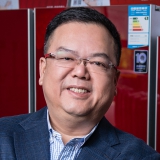 Awards
Kelley School of Business Academy of Alumni Fellows (2019)
About Ian Lee
Ian Lee completed his bachelor's degree in finance and an MBA in 1989 and 1990 respectively from the Kelley School of Business at Indiana University. Throughout his career Lee has maintained strong ties with academia and continues to be part of the Global Dean's Advisory Council at Kelley. He served as adjunct professor of business at Nanjing University, China, from 2010 - 12. Lee is the chief executive officer, Asia Pacific, The Adecco Group, with responsibility for the group's general and professional staffing business in Australia, Hong Kong, India, Japan, Malaysia, New Zealand, Singapore, South Korea, Taiwan, Thailand, and Vietnam, as well as supporting the growth of the group's business in China - working closely with The Adecco Group's joint venture partner FESCO Adecco and other group companies to ensure that synergies are fully leveraged.
He spent the previous 14 years with the Whirlpool Corporation, holding various positions including VP of Asia North, VP and general manager of China, and VP and CFO of Asia Pacific. His most recent position with Whirlpool was as VP of Corporate Affairs & Business Development, Asia - which he held from January 2015 to August 2017.
Prior Whirlpool, Lee spent 13 years with P&G in roles ranging from CFO of Greater China Personal Beauty Care, managing director of Taiwan, and CFO of Global Feminine Care Business Unit. He joined P&G as a financial analyst following his formal studies in 1990, based out of the company's headquarters in Cincinnati.
Ian is based in Singapore, and reports directly to The Adecco Group Chief Executive Officer Alain Dehaze.