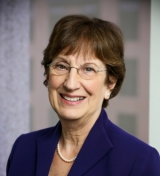 Awards
Honorary Degree (2019)

L.H.D.
Doctor of Humane Letters
IUPUI Spring Commencement
Indianapolis, Indiana
About Elizabeth Boris
Elizabeth Boris holds a BA from Douglass College, Rutgers University, and an MA and PhD in political science from Rutgers University. She is a fellow of the Urban Institute, a public policy research organization in Washington, D.C. From 1991 to 1996, Boris served as founding director of the Aspen Institute's Nonprofit Sector Research Fund, a grant-making program devoted to supporting research on the nonprofit sector and philanthropy. Prior to her tenure at the Aspen Institute, she was vice president for research at the Council on Foundations, where she developed the research program and directed it for 12 years.
In 1996 Boris became the founding director of the Center on Nonprofits and Philanthropy at the Urban Institute, a position she held for two decades. Under her leadership, the center conducted pathbreaking national studies of nonprofit sector regulation, governance, family foundations, volunteer management, advocacy, American artists, and many other topics.
The author of many research publications on nonprofits and philanthropy, Boris co-edited with C. Eugene Steuerle Nonprofits and Government: Collaboration and Conflict (three editions—1999, 2006, and 2017), and is a co-author with Teresa Odendahl and Arlene Kaplan Daniels of Working in Foundations: Career Patterns of Women and Men. In 2006 she received the Distinguished Achievement and Leadership Award from the Association for Research on Nonprofits and Voluntary Action (ARNOVA). She was named a member of Nonprofit Times Power & Influence Top 50 nonprofit leaders nine times.
She was an advisor and board member for a variety of organizations in the nonprofit sector, served as a past president of the Board of ARNOVA, and was a member of the Board of Visitors for the Indiana University Center on Philanthropy. Currently, she serves as chair of the steering committee of the Growth in Giving/Fundraising Effectiveness Initiative and as a member of the editorial board of Nonprofit Policy Forum and the Journal of Public and Nonprofit Affairs, and is an ambassador with Leap of Reason, a community of nonprofit and philanthropic leaders and policymakers focused on performance management.
She was awarded an Honorary Doctor of Humane Letters at the IUPUI 2019 spring commencement, for outstanding achievement in the arts and humanities, and for community engagement and public service.