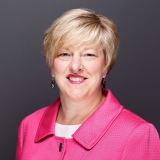 Awards
President's Medal for Excellence (2021)

Bloomington, Indiana
Presenter: Michael A. McRobbie
Bicentennial Medal (2019)
About Karen Adams
Karen Adams served as chief of staff for IU's Office of the President and an adjunct assistant professor in the education leadership and policy studies department of the School of Education, IU Bloomington. Adams earned her B.A. in business administration from Calvin College, M.S.E. and Ed.D in higher education administration from Indiana University Bloomington. She served in a variety of roles during her tenure at IU including, counselor and assistant director in the Office of Student Financial Assistance; office systems trainer, public facilities consulting administrator, and planning and communications administrator in the IU computing services department.
In her role as chief of staff in the Office of the President, Adams advised and represented the president on a wide range of operational and organizational initiatives, and manages the day-to-day operations of the office.
Adams received the IU Bicentennial Medal in August 2019 in recognition of her distinguished service as chief of staff for the Office of the President. For her outstanding achievements and exceptional service, Karen Adams was presented the President's Medal for Excellence in 2021.