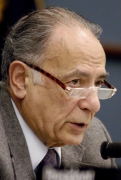 Awards
Thomas Hart Benton Mural Medallion (2004)

Bloomington, Indiana
About Anthony Pizzo
Anthony Pizzo graduated from the University of Chicago's School of Medicine in 1945, interned at the San Diego Naval Hospital in 1946, and did his residency at the Northwestern Memorial Hospital in 1951. He relocated to Bloomington, Indiana, with his wife and family in 1951. He served in different capacities during his long career at IU Health Bloomington Hospital. He was director of the hospital laboratories, chief of staff, and helped to start the hospice program.
Pizzo was a doctor, educator, politician, and civic leader. A pathologist by trade, he served as Monroe County coroner, Indiana state representative for the 60th District, and taught in the IU Medical Science Program. He served as a councilman on the Bloomington City Council from 1993 to 2003. While on the Council, he proposed one of the first smoke-free laws in Indiana that banned smoking in public and work places, which was finally passed in 2003. He retired from teaching at IU as emeritus professor of medical sciences.
Pizzo served on nearly 100 state and local commissions and boards throughout his long career and received many accolades. He received the Local Council of Women's President's Award in 2003, the IU Thomas Hart Benton Mural Medallion for Distinguished Achievement in 2004, the Bloomington Northside Exchange Club's Book of Golden Deeds Award in 2005, and was inducted into the Monroe County Hall of Fame in 2005.
Pizzo passed away in Bloomington, Indiana, on January 14, 2015, at the age of 93.