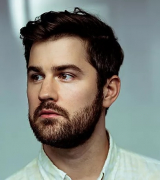 Awards
Grammy Award (2019)

Best Chamber Music/Small Ensemble Performance
Performance: Shaw: Orange
About Nathan Schram
Hailed by the New York Times as an "elegant soloist" with a sound "devotional with its liquid intensity," Nathan Schram is a GRAMMY Award-winning composer, entrepreneur, and violist of the Attacca Quartet. Nathan has collaborated with many of the great artists of today including Björk, Itzhak Perlman, Sting, David Crosby, Becca Stevens, David Byrne, Trey Anastasio, Joshua Bell, Simon Rattle, and others. He has premiered music by Steve Reich, Nico Muhly, Timo Andres, Elliot Cole and Gabriel Kahane. Nathan is also a violist in the Affiliate Ensemble of Carnegie Hall, Decoda, and an Honorary Ambassador to the city of Chuncheon, South Korea.
Apart from performing, Nathan is the Founder and Executive Director of Musicambia. Founded in 2013, Musicambia brings music learning and ensemble performance to prisons throughout the United States. Through working closely with incarcerated individuals on performance, music theory, ear training and composition, Musicambia's professional musicians build artistic communities that nurture the humanity of all involved. Musicambia currently runs a music conservatory in Sing Sing Correctional Facility in Ossining, New York with other programs in Indiana and South Carolina. In addition to their work in the U.S., Musicambia has collaborated with projects in Venezuela and Scotland.
Schram is a prizewinner of the 2007 Primrose International Viola competition, the 2006 Corpus Christi Concerto Competition and a First Prize winner of the 2008 ASTA National Solo Competition. He studied viola at Indiana University with Alan de Veritch and at the Escuela Superior de Música Reina Sofía in Madrid, Spain with Diemut Poppen and Yuval Gotlibovich. Afterwards, as an Ensemble Connect Fellow, he was documented by radio journalist Jeff Lunden for a 2-year, four-part series for NPR's Weekend Edition.