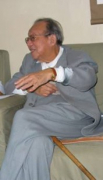 Awards
Thomas Hart Benton Mural Medallion (1986)

Seminar for American and Chinese University Presidents
Indianapolis, Indiana
Presenter: John William Ryan
About Hanqiao Jiang
Hanqiao Jiang graduated from Fudan University's Department of Biology in 1953. He was a member of the faculty there until transferring to Yunnan University in 1956. Beginning his career as a teaching assistant in the Department of Biology, he served in various roles of professor, researcher, doctoral supervisor, deputy director of the Department of Biology (1980), director of the Institute of Ecology and Geobotany (1980, 1984-1991), and as vice president (1983-1991). He spent 35 years at Yunnan University before retiring in 1991.
A plant ecologist/botanist by training, Jiang taught plant ecology, geobotany, and researched the vegetation of the Yunnan Province. During his career, he helped to compile "Chinese Vegetation," which won the National Excellent Book Award in 1982, and second prize of National Natural Science in 1987. According to Shaqing Li of Yunnan Daily, Jiang's monograph titled "Vegetation in Yunnan," "is considered to be the most comprehensive and systematic summary of Yunnan vegetation research so far." It also won second prize of the Yunnan Provincial Science and Technology Achievement in 1988.
Jiang was a member of the Chinese Association for Science and Technology and the Chinese Society of Microbiology, served as director of the Chinese Society of Botany, standing director of the Chinese Ecological Society, chairman of the Yunnan Ecological Society, and vice chairman of the Yunnan Ecological Economics Society. He was also awarded the Thomas Hart Benton Mural Medallion from President John W. Ryan during the Seminar for American and Chinese University Presidents held in Indianapolis in 1986, and awarded a special government allowance by the State Council for his outstanding contributions in the field of plant ecology and geobotany in 1991.
Hanqiao Jiang passed away on April 5, 2011, at the age of 83.