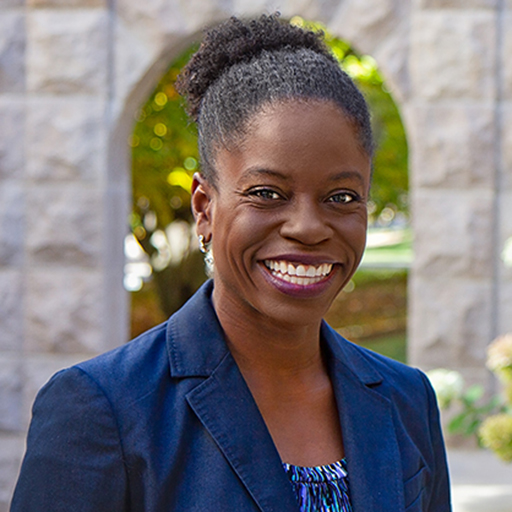 Awards
Thomas Ehrlich Civically Engaged Faculty Award (2021)
Fulbright Award (2021)

Iceland
About Priscilla Barnes
Associate professor of applied health sciences, Priscilla Barnes earned a B.S. in biology and M.P.H. in community health education from IU Bloomington, and a Ph.D. in interdisciplinary health sciences from Western Michigan University. Barnes returned to IU Bloomington as a postdoctoral fellow in 2010 becoming an assistant professor in 2012, and associate professor in 2019. Since 2017, Barnes has served as a faculty affiliate member for the Diabetes Translation Research Center at IUPUI, and since 2019 as a faculty affiliate member for the Center for Rural Engagement at IU Bloomington.
Barnes' career exemplifies a commitment to public health having served as a public health prevention specialist at the Centers for Disease Control and Prevention, a program director for the Minority Health Partnership/Calhoun County Health Department, a program manager for the National Association of County and City Health Officials, and a health education program manager at Elmendorf Air Force Base/Spectrum Healthcare Resources, Anchorage, AK. Barnes is a leader in community engagement. As a faculty affiliate for the Center for Rural Engagement she has worked directly with communities throughout southern Indiana to develop Community Health Improvement Programs. She has championed empowerment of local community leaders to collect data and create plans that will positively impact community health. Barnes has engaged her students in this work providing students with hand on experience in evaluation and development of community health programs. In addition to her work in southern Indiana, Barnes developed an international educational tour for Public Health students in Reykjavik, Iceland where students learn about administrative and policy directives that influence the country's health.
Barnes has regularly received external research funding from organizations like the NIH, NIA, Health Resources and Services Administration, and the Indiana Minority Health Coalition. She is a 2021 Fulbright Scholar and has authored or co-authored over twenty peer-reviewed articles. Barnes has served on the leadership team for IU's Faculty Academy on Excellence in Teaching (FACET) and has served as chair of the Committee of Community Engagement and Workforce Development in the IUB School of Public Health. Barnes received the 2021 Thomas Ehrlich Service Learning (now called the Indiana University Thomas Ehrlich Civically Engaged Faculty Award).