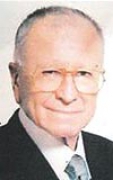 Awards
Distinguished Alumni Service Award (1999)
Thomas Hart Benton Mural Medallion (1992)

International Council Dinner
Bloomington, Indiana
Presenter: Thomas Ehrlich
About Mehmet Kutsi Begdes
Kutsi Begdes worked briefly for the Ministry of Finance as assistant director of treasury in Turkey, 1945. He joined the newly formed banking concern Yapi Ve Kredi Bankasi and was general secretary, commercial director and economic advisor to the chairman between 1945 and 1978. He also rose to the posts of chairman and chief executive officer of the bank's subsidiaries, serving in those positions until 1978. He was a travel agent representative for American Express and European agencies from 1949 to 1988.
As a representative of McDonnell Douglas from 1966 to 1985, Begdes arranged for the sale of aircraft to Turkish airlines and the Turkish Air Force. From 1972 to 1992, he was a consultant and representative of General Electric's Commercial and Military Aircraft Engine Group. Begdes today is a consultant in the fields of international finance, aviation, banking and import/exports.
Begdes also has remained very involved with IU, including his service as a founding member of the university's International Council, the IU International Business Forum and the IU President's Advisory Committee. He also has a bachelor's degree from Robert College, for which he serves as chairman of the fund-raising committee and as a member of the Robert College of Istanbul Corp.