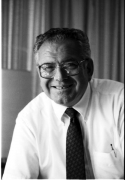 Awards
Bicentennial Medal (2019)
Thomas Hart Benton Mural Medallion (1994)

Year End Review Meeting
Bloomington, Indiana
Presenter: Thomas Ehrlich
About Leon Rand
Leon Rand is professor emeritus of chemistry and former chancellor of IU Southeast. Rand earned a bachelor's degree in chemistry from Northeastern University, M.A. and Ph.D. in organic chemistry from the University of Texas at Austin. Rand also completed a post doctoral fellowship in the department of chemistry at Purdue University. Rand served as the chancellor of IU Southeast from 1986 to 1996.
Rand entered the faculty as an instructor of chemistry at Southern State College in Magnolia, Arkansas, before moving onto serve as a professor at the University of Detroit. In 1968, Rand moved onto Youngstown State University, where he was professor of chemistry, chairman of the Department of Chemistry (1968-1978), dean of graduate studies and research (1974-1981) and acting academic vice president in 1980. Rand then accepted a position as the vice chancellor for academic affairs at the University of North Carolina at Pembroke (1981-1986).
Rand was appointed chancellor of Indiana University Southeast in 1986. His tenure as chancellor marked a time of campus and academic growth. During his tenure, enrollment increased by 40 percent and the budget increased by 100 percent. Numerous buildings projects were completed and more than $9 million in funds for scholarships and capital projects were raised during Rand's tenure. Rand was named professor and chancellor emeritus upon his retirement in 1996.
Rand has received many awards and recognitions including the Outstanding Alumni Award from Northeastern University, Sagamore of the Wabash, Indiana Senate Certificate of Achievement, and Kentucky Colonel from the governor of Kentucky. Even in retirement, Rand remained active at IU and in the community serving as special assistant to the chancellor at IUPUI, board member of the Senior Academy at IUPUI, and an active docent for the Indianapolis Museum of Art.
Rand received the IU Bicentennial Medal in September 2019 in recognition of his distinguished service as chancellor of Indiana University Southeast.