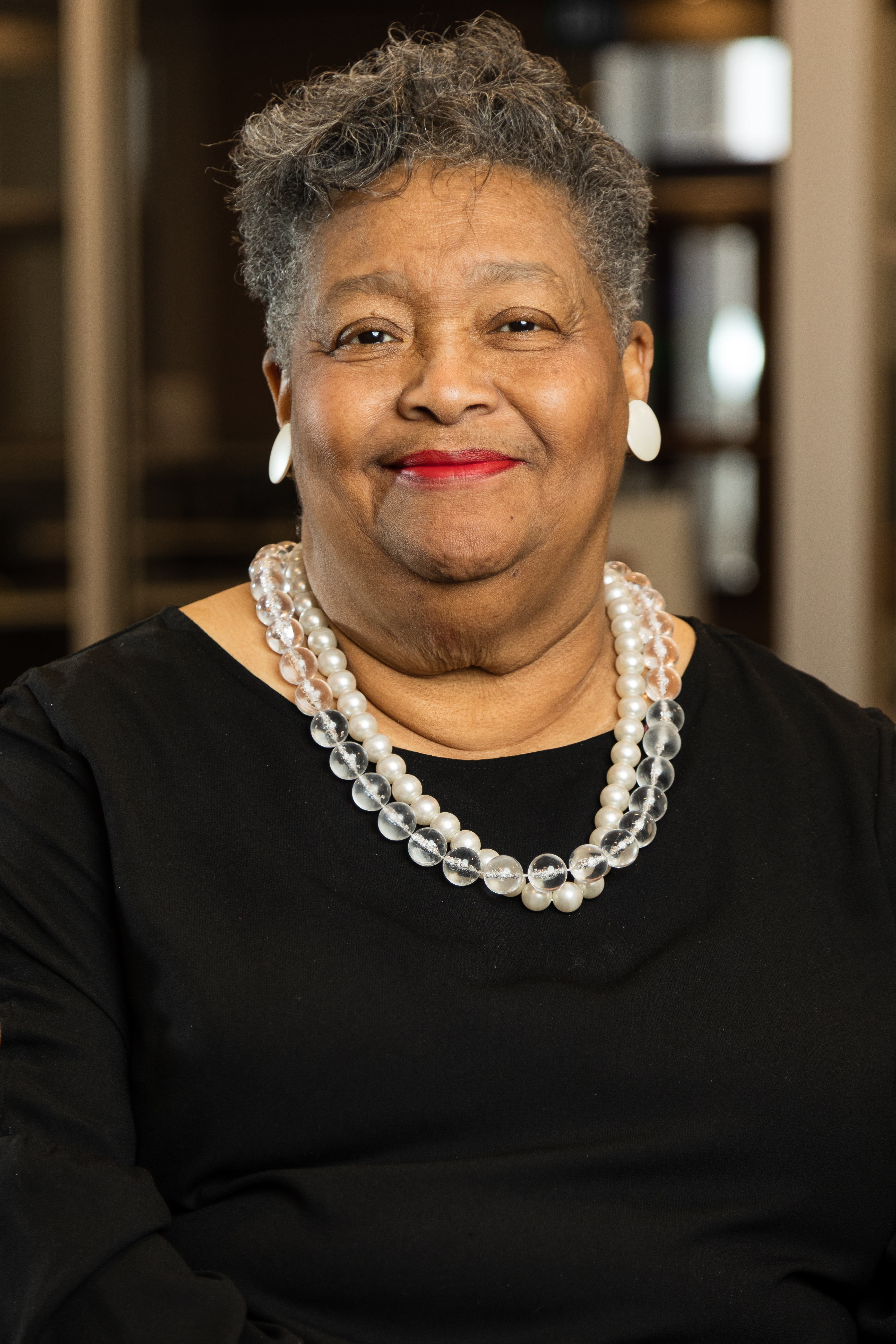 Awards
Honorary Degree (2021)

L.H.D.
Doctor of Humane Letters
IU South Bend Commencement Ceremony
South Bend, Indiana
Presenter: Susan Elrod
About Virginia Brown Calvin
A distinguished educator and public servant, Virginia Calvin has broken barriers throughout her career. Ever since Calvin moved to South Bend in 1972 with her husband, Richmond Calvin, an IU South Bend professor emeritus of education and counseling, she has been a prominent leader in the region, touching countless lives and introducing many community initiatives.
Brought up amid the racial inequalities of rural Louisiana in the 1940s and 1950s, Calvin learned from her parents that education would provide the greatest chances for a bright future. "Dr. Calvin had to battle subtle and overt racism as she strove to achieve her educational and professional goals," says Linda Chen, professor of political science at IU South Bend. "Her early life experiences instilled in her a passion to promote justice and to lift others who came after her."
Calvin began her career as a special education and elementary teacher and school counselor. IU South Bend alumna Alma Powell, also an educator and administrator who worked in the South Bend school system, says of Calvin, "Her initial position as a counselor for the South Bend Community School Corporation afforded her an opportunity to show her powerful skills in working with young people. During that time of heightened issues in civil rights, Ginny proved herself an advocate for students and parents and a leader in district direction."
Soon after joining the school system, Calvin became principal of Muessel Elementary, which under her guidance was named one of the nation's best. Among her innovations, Calvin instituted a French exchange program for Muessel and launched a business partnership that funded enrichment programs in science, German, and algebra. Always encouraging family involvement, Calvin established evening and weekend instructional opportunities for parents. Her successes at Muessel were recognized in 1988 by then-U.S. Secretary of Education William Bennett at a public ceremony in Washington, D.C.
Appointed head of South Bend's schools in 1993, Calvin was the first African American superintendent in Indiana and the first female superintendent in South Bend. She began the job when the corporation had a general fund deficit of $3 million, which by the end of her seven-year tenure was replaced by a cash balance of $11.2 million. She led an ambitious pursuit of corporate, government, and foundation support, resulting in a steady increase in external funding. From 1995 to 1999, the corporation received more than $42 million in grants.
Karen White, who was a longtime IU South Bend administrator and currently serves on the city's Common Council, observed Calvin's leadership firsthand when White was a school board member. "I watched as she managed the corporation, and led the community, through an unprecedented teachers' strike," says White. "Throughout that challenge, and through many more, Dr. Virginia Calvin retained her strong and vocal advocacy and her deep integrity." In 1996 Calvin was named Indiana School Superintendent of the Year.
Upon stepping down as superintendent in 2000, Calvin was appointed chancellor of Ivy Tech Community College North Central, where she served to great acclaim until retiring in 2010. "Under her leadership, Ivy Tech made significant advances in the quality of educational programming and growth," says Alfred J. Guillaume Jr., a professor emeritus of French and former executive vice chancellor for academic affairs at IU South Bend.
Her recent years have been notable for her energetic philanthropic and nonprofit involvement. In collaboration with the Community Foundation of St. Joseph County, Virginia and Richmond Calvin founded, and provided the lead gift for, the African American Community Fund, the first program of its kind in the nation, aimed at improving quality of life for African Americans in the county. She has created numerous scholarships, many supporting IU South Bend students. She is a founding member of South Bend Charter Schools and serves on the Indiana Charter School Board; she is a board member of the Indiana Commission for Women; and she serves as chair of the South Bend Housing Authority Commission.
Calvin's many awards include being named a Sagamore of the Wabash by then-Indiana Governor Evan Bayh, as well as induction into the South Bend Hall of Fame.