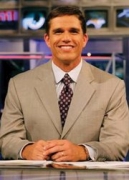 Awards
IUB Athletics Hall of Fame (2011)
Thomas Hart Benton Mural Medallion (2004)

Bloomington, Indiana
About Trent Green
Trent Green, from Cedar Rapids, Iowa, played for IU from 1990 to 1992, earning three football letters and gaining 5,400 yards through the air, fourth-best all-time in school history. In 1991, he set a then-school single-season record with 2,627 yards passing.
After playing on three bowl teams at IU coached by Bill Mallory, Green slipped to the eighth round of the 1993 draft where he was chosen by the San Diego Chargers. After years as a backup and one season in the Canadian Football League, Green became the starting quarterback for the Kansas City Chiefs in 2001.
With the Chiefs, Green started every game for five consecutive seasons, including 2004 when he threw for 4,591 yards and 27 touchdowns. He retired after the 2008 season. Three years into retirement after 15 seasons in the NFL, former Indiana quarterback Trent Green was among the 2011 inductees into the IU Athletics Hall of Fame.
Green won football letters in 1990, 1991 and 1992, and was co-captain in 1992. He was IU's Most Valuable Player in 1992. He was a member of three bowl teams while at IU, the Liberty Bowl, Peach Bowl, and Copper Bowl. Green holds IU record with 2,627 passing yards in 1991 and ranks 4th on career list with 5,400 yards. He set the total offense record in 1991 with 2,829 yards and is 4th on career list with 5,916 yards. Green played quarterback in the NFL for 15 years.