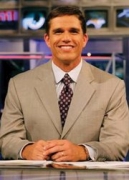 Awards
Z.G. Clevenger Award (2021)
IUB Athletics Hall of Fame (2011)
Thomas Hart Benton Mural Medallion (2004)

Bloomington, Indiana
About Trent Green
One of the most accomplished quarterbacks in IU Football history, Trent Green (BS '92) followed up his remarkable run in Bloomington with a highly-successful 15-year career in the NFL.
Green played under Head Football Coach Bill Mallory from 1989-92, was a three-year starter, and was the team's co-captain and MVP in 1992. He was a member of three bowl teams, including the 1989 Liberty Bowl Champions and the 1991 Copper Bowl Champions. In 1991 he established new program records with 2,627 passing yards and 2,829 yards of total offense, and his career totals 5,400 passing yards and 5,916 yards of total offense both rank eighth in IU history.
An eighth-round pick in the 1993 NFL Draft by the San Diego Chargers, Green spent 15 years in the professional ranks with six different NFL franchises. He got his first chance to start in 1998 with Washington, where he threw for 3,441 yards and 23 touchdowns in 14 starts. The following fall a pre-season knee injury ended his chances to start for the eventual Super Bowl champion St. Louis Rams, but soon afterwards he moved on to Kansas City, where he was a starter from 2001-06. He threw for at least 3,600 yards five times with the Chiefs and was a Pro Bowl selection in both 2003 and 2005. He retired from the NFL in 2008, and has gone on to more successes as an NFL color analyst for Westwood One, the NFL Network and, for the last eight years, with CBS Sports.
Green's accomplishments on the field have been mirrored by his contributions off it. A 2011 inductee into the IU Athletics Hall of Fame, Green has been highly involved with a number of Kansas City area and national charities, including the Ronald McDonald House, Children's Mercy Hospital in Kansas City, Phoenix Family and the YMCA. He and his wife, Julie, have also been active supporters of IU Football for many years, and the IU locker room is now named the Trent and Julie Green Locker Room in recognition of their major gift in support of the program.
Trent's wife, Julie, is also an IU graduate, having earned her degree from the IU School of Education. The couple met while they were undergrads and have been married for 27 years. They have three children – T.J., Derek, and Janelle.