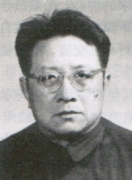 Awards
Thomas Hart Benton Mural Medallion (1986)

Seminar for American and Chinese University Presidents
Indianapolis, Indiana
Presenter: John William Ryan
About Jingru Zhang
For over 40 years, Jingru Zhang served Shanghai Medical College of Fudan University in successive roles as student (graduating in 1953), teaching assistant, lecturer, associate professor, professor, doctoral supervisor and tutor, dean, and president. After serving as dean of the graduate school and president from 1984 to 1988, he retired in 1994.
Trained as a physiologist, Zhang contributed greatly to the teaching and scientific research of physiology. His research results have been published in more than 100 papers on the subject. Since 1961, he has participated in compiling textbooks on this subject. His most famous are "Physiology" (Ministry of Health, 1962) and "Human Physiology" (1983), both of which are highly regarded and widely used in China. The former and its subsequent editions have won the State Education Commission's Excellent Textbook Award, the National University's Excellent Textbook Special Award, and the National Science and Technology Progress third prize. The latter's second edition won the Press and Publication Administration's Excellent Science and Technology Book first prize.
Throughout his long career, Zhang was actively involved in the Chinese Physiological Society, serving as executive director and deputy chairman, and the scientific journal Acta Physiology, serving on the editorial board, as an executive editor, and deputy editor. He received many accolades, including Shanghai Medical University's Outstanding Educator, the Shanghai Elite Award for Elderly Dedication, and the Ministry of Health's Elderly Dedication Award. He was also awarded the Thomas Hart Benton Mural Medallion from President John W. Ryan during his visit to Indianapolis to attend the Seminar for American and Chinese University Presidents held in 1986.
Jingru Zhang passed away on August 27, 2016, at the age of 88.