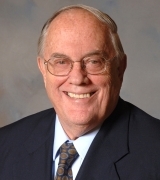 Awards
Bicentennial Medal (2020)
School of Medicine Glenn W. Irwin, Jr. Distinguished Faculty Award (2001)
About C. Conrad Johnston, Jr.
Dr. Johnston received his M.D. from Duke University in 1955. He completed an internship at Duke Hospital, residency at Barnes Hospital in St. Louis, and a research fellowship at Indiana University School of Medicine. Remaining at IU as a faculty member, in 1969 he was promoted to Professor of Medicine. At this time, Dr. Johnston also became Chief of the Division of Endocrinology and Metabolism, a position he held until 1994. In 1997 he was named Distinguished Professor.
Dr. Johnston was recipient of the USHPH Career Research Development Award in 1963 and the Sandoz Prize for Gerontological Research in 1993. In 1996 he received the Frederic C. Bartter Award from the American Society for Bone and Mineral Research for outstanding clinical investigation in disorders of bone and mineral metabolism. In 1998 he received the Yank D. Coble, Jr., M.D. Distinguished Service Award of the American Association of Clinical Endocrinologists.
Dr. Johnston has served on the NIH Aging Review Committee, the NIH Nursing Science Review Committee, the NIA Geriatrics Review Committee, and the National Advisory Council on Aging of the NIA. Dr. Johnston is Chairman of one of the Indiana University-Purdue University at Indianapolis Committees for the Protection of Human Subjects. He was Vice Chairman and Chairman of the Health and Hospital Corporation Board of Trustees. He also served as President of the National Osteoporosis Foundation, Chairman of the NOF Scientific Advisory Board, and Associate Editor of the journal Bone.
Dr. Johnston has published over 180 papers and 20 book chapters on metabolic bone diseases, especially osteoporosis. He started and continues to direct the Bone Studies laboratory at Indiana University Hospital. His studies are critical to researchers' understanding of the changes in bone mass with age and the inheritance of bone mass.
In 2020, Dr. Johnston was presented the Bicentennial Medal for his distinguished service to Indiana University.