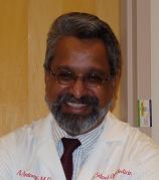 Awards
Fulbright Award (2001)

India
About Asok C. Antony
Dr. Asok Antony is a recognized leader in folic acid, folate physiology and folate malnutrition research. The studies and knowledge created by Antony have enhanced the understanding of folate handling worldwide. He has been asked to contribute to many reviews, editorials and book chapters, with the latter including "Cecil Medicine" by Lee Goldman and "Hematology" by Ronald Hoffman, two heavily used and respected medical textbooks. His high-quality research contributions were recognized by his election into the American Society for Clinical Investigation.
Additionally, Antony led research which found that the incidence of neural tube defects in India was among the highest in the world. Resulting from his findings, and subsequent involvement of World Health Organization and UNICEF nutritionists, the Indian prime minister listed folate supplementation as a priority item on the Prime Minister's National Council on India's Nutritional Challenges.
Antony teaches hematology at the IU School of Medicine; the university has recognized his teaching excellence with a Trustees Teaching Award. He has served the school in many ways but most visibly as chair of promotion and tenure committees, including the Department of Medicine, School of Medicine and IUPUI levels.