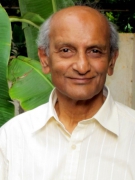 Awards
Fulbright Award (2005)

Mauritius
About Bangalore P. Lingaraj
Bangalore P. Lingaraj served as a professor of operations management at Indiana University Purdue University Fort Wayne, now known as Purdue Fort Wayne, from 1983 to 2005. He received a B.E. in Mechanical Engineering from the University of Mysore (India) in 1961, a M.S. in Industrial Engineering at Kansas State University in 1964, and a Ph.D. in Industrial Engineering and Operations Research from the University of Pittsburgh in 1973. He joined the former IPFW's faculty as a professor of business and economics in 1983 and served as chair of the Department of Management and Marketing from 2003 to 2005. Lingaraj retired from the department in 2005 and was given the title of professor emeritus of operations management from Purdue. Following his retirement, he served as a visiting professor at Marshall University in Bangalore, India from 2007 to 2011.
Prior to his time at IPFW, Lingaraj served as a professor of management at the University of Tennessee at Chattanooga from 1981-1983, associate professor of management at Washburn University from 1978-1981, professor at the Indian Institute of Management in Bangalore from 1974-1978, assistant professor of management at Marquette University from 1970-1974, and as a quality control engineer at Xerox Corporation from 1964-1966.
Lingaraj served as a Fulbright American Scholar at the University of Mauritius in Réduit, Moka in 2005-2006 and currently serves as an advisor to the board of trustees of the Canadia Trust.