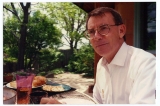 Awards
Fulbright Award (2001)

Russia
About Barry Johnston
Barry Johnston served as a professor of sociology at IU Northwest for 34 years. He received his Ph.D. from the University of Notre Dame. He started at IU Northwest as a lecturer in sociology and was promoted to assistant professor of sociology in 1974, associate professor in 1978, and full professor in 1988. Johnston also served as the chairman of the Department of Sociology and Anthropology during his tenure at IU Northwest. From 1990-1992, he was appointed as a Chancellor's Fellow on the Bloomington campus. He retired from teaching in 2006 and was given the title of professor emeritus of sociology.
Johnston was the author of three books, two of which include major books on Pitirim Sorokin: Pitirim A. Sorokin: An Intellectual Biography (University Press of Kansas, 1995) and Pitirim Sorokin: On the Practice of Sociology (University of Chicago Press, 1998), and won a number of awards on these books as well as his writings. He served as a Fulbright scholar in 2001 where he spent a semester teaching at Moscow State University in Russia.
Johnston passed away on November 5, 2011.