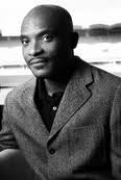 Awards
Fulbright Award (2008)

Democratic Republic of the Congo
About Ch. diDier Gondola
Ch. diDier Gondola is a professor of history in the School of Liberal Arts at IUPUI. He joined IUPUI's faculty in 1999 as an assistant professor in the Department of History. He was promoted to associate professor in 2003 and full professor in 2009. Gondola also served as chair of the Department of History from 2012 to 2015. Prior to his time at IU, he served as a visiting assistant professor of history at Macalester College from 1997 to 1999 and a teaching associate of French at Cornell University from 1994 to 1995.
Gondola's publications and academic interests focus on colonial Africa, African Diaspora, popular culture, and gender and urban issues in west and central Africa with his most recent project's focus on the emergence of HIVs in colonial Africa. He received his B.A. in History from the Universite Paris I in 1987 and his M.A. in History in 1988, M.B.A. in Economics and Social Management in 1990, and Ph.D. in African History in 1993 all from the Universite Paris VII.
In 2008, Gondola received the J. William Fulbright Foreign Scholarship where he conducted research and taught at the Universite de Kinshasa in the Democratic Republic of the Congo during the 2008-2009 academic year. In 2011-2012, he was the recipient of a European Institute for Advanced Studies (Eurias) Senior Fellowship at the Nantes Institute for Advanced Studies where he developed his manuscript, Tropical Cowboys: Westerns, Violence, and Masculinity in Kinshasa (IU Press 2016). Gondola also received a senior fellowship from the Collegium of Lyon in France in 2015-2016. He is a co-editor of Frenchness and the African Diaspora: Identity and Uprising in Contemporary France and a member of the editorial board of Outre-Mers (Belgium). Gondola is a member of the IUPUI African and African American Studies Committee, Central African Studies Association, and African Studies Association.