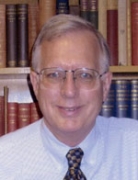 Awards
Fulbright Award (1982)

Germany
About David J. Nordloh
David J. Nordloh is a professor emeritus of English in the College of Arts and Sciences at IU Bloomington. He received a B.A. from the College of the Holy Cross in 1964 and a Ph.D. from Indiana University in 1969. He joined IU's faculty in 1969 as an assistant professor of English in the College of Arts and Sciences and was promoted to associate professor in 1975 and full professor in 1981. While at IU, he served as the director of the American Studies program from 1987 to 1994, as the director of the undergraduate program in the Department of English, and as associate dean of the faculties in the Office of the Vice Provost for Academic Affairs and Dean of the Faculties.
Nordloh served as a Fulbright Senior Professor at the Universitat Heidelberg in Federal Republic of Germany during the 1982-83 academic year as a part of the Fulbright program. He also served as the co-editor of American Literary Scholarship: an Annual (Duke University Press) and general editor and textual editor "A Selected Edition of W. D. Howells" (Indiana University Press).
After many years of teaching at IU, Nordloh retired in 2006 with the title of professor emeritus.