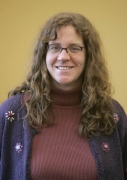 Awards
John W. Ryan Award for Distinguished Contributions to International Programs and Studies (2005)
Fulbright Award (1995)

Sweden
About Deborah G. Finkel
Deborah G. Finkel received her B.S. from Centre College in 1986, and earned her Ph.D. from the University of Minnesota in 1992. Finkel was appointed to the Indiana University Southeast faculty in 1992, where she became a Professor of Psychology, and in 1996, the Program Coordinator for the International Studies Program in the School of Social Sciences.
During her tenure as director, from 1996 to 2002, Finkel fundamentally shaped, and created, much of the International Programs academic structures and community programs. Finkel started by updating the international studies minor and received the approval for a B.A. in International Studies in 2003. In only the second year of implementation, the major had nearly 30 students.
Finkel has worked on increasing awareness and visibility of the university's international offerings, by founding the International Speaker Series in 1997, a monthly forum that highlights global issues and perspectives and the international activities of IU Southeast faculty. She has helped organize the university's first annual International Festival, created the International Studies Web site and a printed International Directory. She's strengthened international connections with her work on IU Southeast's educational partnership with CARE-Honduras, and her development of the OIP/Chancellor's Fund that supports faculty and students in their international research, teaching, and service.
In New Albany, she's served on the board of the Center for Cultural Resources, which helps K-12 teachers incorporate multiculturalism into their classrooms, and has worked with the Clarksville Sister Cities Association. She served as the President of the faculty senate from 2002 to 2003.
Finkel still remains active in her own research, behavioral genetics. She is currently participating in the Swedish Adoption/Twin Study on Aging at the Karolinska Institutet in Stockholm -- only the second researcher since it's inception in 1984 to be invited to join the research team.