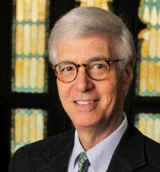 Awards
Fulbright Award (1995)

Portugal
About Edward Friedman
Edward Friedman served on faculty at IU as a professor of Spanish from 1989 to 2000 and as a professor of comparative literature from 1992 to 2000. He left IU in 2000 to accept an appointment as professor of Spanish and comparative literature at Vanderbilt University which he held until 2006. In 2007, he was appointed as Chancellor's Professor of Spanish and professor of comparative literature and served in that position until 2011. While at Vanderbilt, he also served as the director of the Robert Penn Warren Center for the Humanities from 2008 to 2019. In 2011, Friedman was named Gertrude Conaway Vanderbilt Professor of Spanish in 2011, a title he still currently holds.
Prior to his time at IU, Friedman served on faculty in the Spanish department at Arizona State University from 1977 to 1989 and at Kalamazoo College from 1974 to 1977. His research has centered on early modern Spanish literature with special emphasis on Cervantes, picaresque narrative, and the Comedia. He received his B.A. in Romance Languages from the University of Virginia in 1970 and his M.A. and Ph.D. in Romance Languages from Johns Hopkins University in 1971 and 1974.
Friedman received a Fulbright award in 1995 to lecture and research at the University of Lisbon, Portugal in 1996 and one in 2010 in Madrid, Spain. He is also the recipient of the Jeffrey Nordhaus Award for Excellence in Undergraduate Teaching in 2006 and 2012 and the College of Arts and Science Graduate Mentoring Award in 2007 from Vanderbilt University. Friedman served as an editor of the Bulletin of the Comediantes from 1999 to 2017 and is the past president of the Cervantes Society of America.