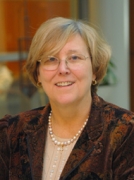 Awards
Fulbright Award (1999)

Argentina
About Eleanor D. Kinney
Eleanor D. Kinney is the Hall Render Professor of Law and founding director of the William S. and Christine S. Hall Center for Law and Health at Indiana University McKinney School of Law. She is also an adjunct professor in the Schools of Medicine and Public and Environmental Affairs. A widely published author and respected lecturer on the subjects of America's health care system, medical malpractice, health coverage for the poor, and issues in administrative law, Professor Kinney is author or co-author of numerous law review articles, book chapters and book reviews.
She recently published Protecting American Health Care Consumers (Duke University Press 2002) and edited the Guide to Medicare Coverage Decision-Making and Appeals(ABA Publishing 2002). Professor Kinney received her J.D. and B.A. from Duke University. She also has a masters of public health degree from the University of North Carolina - Chapel Hill and a masters of history from the University of Chicago. After graduating from law school, she practiced law for four years at Squire, Sanders & Dempsey in Cleveland, Ohio and then worked as an estate planning officer for Duke University Medical Center. After earning her master's degree in public health, she served as program analyst for the U.S. Department of Health and Human Services in Washington, D.C. Before joining the faculty in 1984, she was assistant general counsel of the American Hospital Association.
Professor Kinney has served as a consultant to the Administrative Conference of the United States, President Clinton's Task Force for Health Care Reform, and the Indiana Commission on Health Care for the Working Poor. She has been appointed by the governor of Indiana to the Executive Board of the Indiana State Department of Health and to other task forces and advisory boards. During 1999-2000, Professor Kinney taught and conducted research as a Fulbright Fellow at the National University of La Plata in La Plata, Argentina. Professor Kinney served as Chair of the American Bar Association's Section on Administrative Law and Regulatory Practice in 2005-2006.