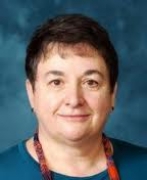 Awards
Fulbright Award (1998)

Sweden
About Elyce Rotella
Elyce Rotella is an associate professor emeritus of economics in the College of Arts and Sciences at IU Bloomington. She received an A.B. in History from the University of Pittsburgh in 1966, a M.A. in Economic History from the University of Pennsylvania in 1972, and a Ph.D. in Economic History from the University of Pennsylvania in 1977. Prior to joining IU, she served as an assistant professor of economics and women's studies at San Diego State University from 1975-1981. Rotella joined IU's faculty in 1981 as an associate professor of economics and also served as an adjunct associate professor of women's studies. She retired from IU in 2010.
Currently, Rotella serves as an intermittent lecturer in the Department of Economics in the College of Literature, Science, and the Arts at the University of Michigan. She specializes in the economic history of the U.S. and in labor and demographic economics with much of her research examining the role of women in the U.S. economy. She has published numerous articles on women in the labor force including articles in the Journal of Economic History and Explorations in Economic History and is the author of From Home to Office: U.S. Women at Work, 1870-1930 (UMI Research Press, 1981).
In 1998-1999, Rotella served as a Fulbright Chair in North American Studies and Economic History at Uppsala University in Sweden. She has also held visiting professorships at Tufts University, Wellesley College, the University of Pennsylvania, l'Ecole des Hautes Etudes en Sciences Sociales and the University of Michigan throughout her career. She is a member of the American Economics Association, the Economic History Association, and the Social Science History Association.