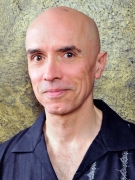 Awards
Fulbright Award (2001)

Germany
About Flynn Picardal
Flynn Picardal was a professor emeritus in the Paul H. O'Neill School of Public and Environmental Affairs and held adjunct appointments in the Department of Biology and Department of Geological Sciences at IU Bloomington. He received his B.A. in Biology from the University of Rochester in 1972, his M.Eng. in Environmental Engineering from Stevens Institute of Technology in 1988, and his Ph.D. in Civil (Environmental) Engineering from the University of Arizona in 1992. Prior to his academic career, Picardal held consulting and management positions at AIG Consultants, Inc. in New York from 1983 to 1988. He joined IU's faculty in 1993 as an assistant professor in the O'Neill School and reached full professorship in 2016. His research focused on interdisciplinary aspects of environmental microbiology, bioremediation, and biogeochemistry. In 2018, he retired from IU with the title of professor emeritus of public and environmental affairs.
Picardal received a Fulbright award in 2001 to lecture and research as a Fulbright Senior Scholar at Max-Planck-Institute in Bremen, Germany. He also served as a visiting scientist in the Department of Environmental Microbiology at the Berlin Institute of Technology in Germany from 2008 to 2009. He is the recipient of the Teaching Excellence Recognition Award and O'Neill Undergraduate Teaching Award from IU, both in 1997. Picardal was a member of the American Society for Microbiology and the Association of Environmental Engineering and Science Professors and served on the editorial boards for Applied and Environmental Microbiology and ES&T Letters journals.
Picardal passed away on January 4, 2020.