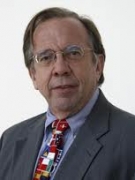 Awards
Bicentennial Medal (2021)
Fulbright Award (1998)

Russia
About Herbert A. Terry
Herbert A. Terry is an associate professor emeritus of telecommunications in The Media School and affiliate faculty member in the Inner Asian and Uralic National Resource Center in the Hamilton Lugar School of Global and International Studies at IU Bloomington. He earned a B.A. in History from Stanford University in 1970, a M.A. in Journalism and Mass Communications from the University of Minnesota in 1974, and a Ph.D. in Mass Communications from the University of Minnesota in 1976. He joined IU's faculty in 1974 as an assistant professor of telecommunications and was promoted to the rank of associate professor in 1983. Terry was known as an expert on electronic media law and policy. Between 1994 and 2005, he frequently worked outside the U.S. in the former Soviet Union and other nations transitioning from government-controlled media, working with universities, media practitioners, non-governmental organizations and government officials to help create environments favorable to independent media. In 2004-2005, he was appointed as founding director of the College of Arts and Sciences' Global Village Living-Learning Center in Foster-Quad. Terry served as president of the Bloomington Faculty Council from 2008-2009. He retired from IU in 2012 and following his retirement, served another year as president of the Bloomington Faculty Council from 2013-2014.
In 1996, Terry received the Frank M. Stanton award from the New York City-based International Radio and Television Society for his lifetime contributions to communications education. He received a Fulbright award in 1998 where he served as a Fulbright scholar lecturing in electronic media, communications, and American culture/studies at St. Petersburg State University in Russia during the 1998-1999 academic year. Terry also received the Indiana University Bloomington Distinguished Service Award in 2014-2015.
In 2021, Terry was presented the Bicentennial Medal for his distinguished service to Indiana University.