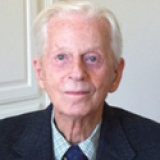 Awards
Fulbright Award (1962)

Argentina
About Melvin L. DeFleuer
DeFleur earned his bachelor's degree from St. Louis University, and his master's and doctorate from the University of Washington. He served as a sergeant with the United States Marine Corps during World War II, participating in combat against Japanese forces on Guadalcanal, Bougainville, Guam and Iwo Jima.
He was a pioneer in mass communication theory research. In addition to his research in mass communication, DeFleuer also made significant contributions to the disciplines of sociology and psychology.
DeFleur authored more than a dozen books over his academic career which spanned five decades. His work is considered the gold standard at mass communication schools around the world.
In addition to serving at Indiana University, DeFleuer also served on the faculties of the Louisiana State University's Manship School of Mass Communication, the University of Kentucky, Washington State University, the University of New Mexico, the University of Miami, Syracuse University and Boston University. On two occasions, he was a Fulbright Professor to Argentina.