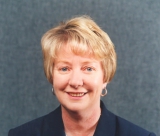 Awards
IUPUI Spirit of Philanthropy Award (2012)
Fulbright Award (2007)

Thailand
About Dr. Nancy Chism
Dr. Nancy Chism completed her BA in English in 1969 at Fordham University. She then received a MAT in English Language and Literature and Education from Smith College in 1971 before earning a PhD in Educational Policy and Leadership from Ohio State University in 1984. Dr. Chism began her postgraduate career as a research coordinator in the Ohio Department of Education. From 1988 to 1999, she was Director of Faculty and TA Development and faculty member in Educational Policy and Leadership at The Ohio State University. In 1999, she moved to Indiana University to become an Associate Professor of Educational Leadership and Policy Studies, as well as the Associate Vice Chancellor for Professional Development and Associate Dean of the Faculties at IUPUI. She held these positions until 2006, when she stepped down to pursue her research and teaching interests. Dr. Chism was active on many IUPUI committees, including the Conflict of Interest Committee, the Distance Education Committee, and the Teaching Learning Systems Committee. She was also a member of the Chancellor's Diversity Cabinet. Following her retirement from IUPUI in 2012, Dr. Chism was elected to Martin University's Board of Trustees.
In 2008, Dr. Chism spent five months in Thailand as a Fulbright Scholar, during that time, she consulted with the Thai commission on Higher Education on issues of professional and organizational development for colleges and universities. This experience led her to organize a special course called International Service Learning in Thailand, during which she and a group of 11 doctoral students from the IU School of Education spent more than three weeks in Bangkok, this past summer to partner with Thai higher education institutions on projects and to learn more about post-secondary education in Southeast Asia.
Dr. Chism served as President of the Professional and Organizational Development Network in Higher Education, the major professional association in her field, and received the Bob Pierleoni Spirit of POD Award: its highest service award. She also received a 2004 Faculty Colloquium on Excellence in Teaching (FACET) Award, the Joseph T. Taylor Award for Excellence in Diversity in 2005, and Outstanding Faculty Woman Leader of the Year in 2004.