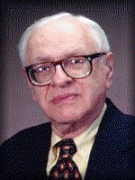 Awards
Fulbright Award (1996)

Portugal
Fulbright Award (1962)

Italy
About Paul Gordon
Paul J. Gordon was a professor emeritus in the Graduate School of Business at IU Bloomington. He received his B.B.A. from City College New York, M.B.A. from Cornell University, and Ph.D. from Syracuse University. He began his teaching career at Cornell University in 1949 and also held academic appointments at Duquesne University, Emory University, St. John's University, and served in international scholar roles at Ljubljana University in Yugoslavia, Trinity College in Dublin, Systems Research Institute Polish Academy of Sciences, Helsinki School of Economics and Business Administration in Finland, and the Institute of Higher Studies of Administration in Caracas, Venezuela.
Gordon joined the faculty at IU in 1959 as an associate professor of management in the School of Business and was appointed as professor in 1963. Gordon also served as chairperson of the Department of Administrative and Behavioral Studies in the School of Business at IU from 1980 to 1983. In May of 1989, he retired from IU Bloomington with the title of professor emeritus.
Gordon was a recipient of multiple Fulbright awards. While at IU, he served as a Fulbright lecturer at the Post University Institute for the Study of Business Organizations in Turin, Italy in 1963, and served as Fulbright-FLAD Chair in Strategic Management at Technical University in Lisbon, Portugal lecturing in corporate planning models in 1997. He also served as a Fulbright lecturer and consultant at the National University in the Republic of Uruguay. Gordon was a member of the U.S. AID Management Education Reconnaissance Survey in India and Pakistan and a consultant to the IRS and American College of Hospital Administrators. He was also a Fellow of the International Academy of Management, an honorary member of the American Academy of Medical Administrators, and a life member of the Fulbright Association. He served as an editorial consultant and advisory board member of the Business Horizons publication and as editor of the Academy of Management Journal. In 1992, he was awarded the Distinguished Service Award from the Academy of Management.
Gordon passed away on January 5, 2009.