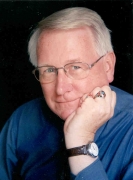 Awards
John W. Ryan Award for Distinguished Contributions to International Programs and Studies (2008)
Fulbright Award (2000)

Bulgaria
About Randall Baker
Dr. Randall Baker received his B.S. with honors in Natural Sciences and Economics from the University of Wales in 1965. He then earned his M.A. and Ph.D. from the University of London in 1968. He also received a Certificate de la Langue et de la Civilisation Française 1st Class in Sorbonne, Paris in 1978.
Baker was Professor and former Director of International Programs in the School of Public and Environmental Affairs at Indiana University in Bloomington. His research focused on the fundamentals of American civic and political life in terms of historical process on a comparative basis with Europe, the persistence of political anomaly and challenges to models of sovereignty, and the isolation of change as an independent variable and process in positioning for the future.
Dr. Baker is the author of several books including King Hussain and the Kingdom of Hejaz: 1916-1926 published in 1979, Public Administration in Small and Island States from 1992, Environmental Management in the Tropics: A Historical Perspective from 1993, A Summer in the Balkans: Laughter and Tears After Communism published in 1994, Environmental Law and Policy in the European Union and the United States from 1998, Transitions from Authoritarianism: The Role of the Bureaucracy from 2001, Dn Qnth_h M`}`d to Sofia and Back: A Perspective on Transition in Bulgaria from 2003, and Strange Places: The Persistence of Political Anomalies published in 2004. He co-authored Energy: Science, Policy and the Pursuit of Sustainability published in 2002 and he was the editor of Comparative Public Management: Putting American Public Policy and Implementation in Context published in 1994.
Baker was a recipient of the Rockefeller Scholarship for African Studies from the University of London in 1968, a Fulbright Scholar from 1992 (Bulgaria), and a Senior Fulbright Scholar from 2000 (Bulgaria). He received an honorary degree from Western University in Azerbaijan in 2002, and from the New Bulgarian University in Sofia in 1996. He was an Honorary Graduate of Moscow State University from 1990, and an Honorary Professor of Western University in Azerbaijan from 2002. Baker was appointed an Honorary British Consul in Rwanda in 1967, an Honorary Citizen of Breze, Bulgaria in 1996, and in 2003 was made an Honorary Member of the Bulgarian Academy of Sciences. He received a Distinguished Service Award from NIDA in Thailand in 2002, and the SPEA Graduate Teaching Award from Indiana University.