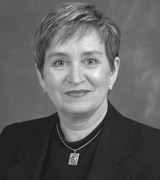 Awards
Chancellor and Provost Medallion (2014)

IU Bloomington Provost's Medal
Bloomington, Indiana
Presenter: Lauren Kay Robel
Fulbright Award (1988)

Pakistan
About Ruth M. Stone
Ruth M. Stone received a B. A. from the University of Northern Iowa in 1966 (voice), a M.M. from Hunter College in 1972 (musicology) and a Ph.D. from Indiana University (folklore and ethnomusicology) in 1979. She has served as chair of the Department of Folklore and Ethnomusicology, Director of the Archives of Traditional Music, and a member of the African Studies faculty.
Professor Stone is an expert in the areas of theory and temporal dimensions of the field of ethnomusicology. She has advanced new approaches to time in African music, drawing upon indigenous conceptions and formulations. She has written and published a number of books and multi-media publications on musical performance of the Kpelle in Liberia, West Africa. She has also edited Africa, a volume in the Garland Encyclopedia of World Music, which is the first comprehensive reference work in ethnomusicology.
Professor Stone has pioneered research, publication, and presentation of ethnomusicological analysis through digital electronic formats. She is the co-founder of the EVIA Digital Archive, a groundbreaking approach to research and teaching in ethnomusicology. She has been a recipient of individual and institutional research awards from the National Endowment for Humanities, Fulbright-Hays, and the Mellon Foundation.
A leader in her discipline's professional organization, she has served as president of the Society for Ethnomusicology. She has also been the president of the Liberian Studies Association.