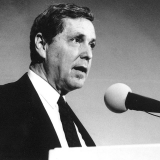 Awards
Fulbright Award (1962)

Germany
About Thomas D. Langan
In the 1950s, Langan left his Jesuit-founded alma mater, St. Louis University. He began his employ at Indiana University and eventually rose to chair of the philosophy department. After a period of study in Europe, Langan joined the University of Toronto in 1967 and taught at St. Michael's College from 1978 to 1994.
He was a noted expert in the 20th-century philosophy of Martin Heidegger and a collaborator with Fr. Etienne Gilson on a two-volume history of philosophy.
His philosophical books include: The Catholic Tradition; Surviving the Age of Virtual Reality; The Meaning of Heidegger: A Critical Study of an Existentialist Phenomenology; Tradition and Authenticity in the Search for Ecumenic Wisdom; and Being and Truth and Self Discovery.