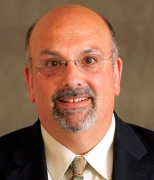 Awards
W. George Pinnell Award for Outstanding Service (2020)
Fulbright Award (2010)

South Africa
About Victor Borden
Internationally recognized as a leader in institutional research (IR), Victor Borden exemplifies distinguished service to the university, profession, and public. Borden earned his B.A. in Psychology and Sociology from the University of Rochester in 1979 and his M.S. and Ph.D. in Psychology from the University of Massachusetts-Amherst in 1984 and 1987. Prior to joining IU, he served in research positions at George Mason University from 1987 to 1992 and University of Massachusetts-Amherst from 1984 to 1987. Borden joined the IU faculty in 1992, Borden has served both the IUPUI and Bloomington campuses in a variety of ways including as co-founder of the Office of Planning and Institutional Improvement at IUPUI, and at IU Bloomington as director of the Project on Academic Success and, most recently, as senior advisor to the executive vice president for university academic affairs. In each of these roles, Professor Borden shared his IR expertise to help raise graduation and retention rates, while sharing his love of the field with the next generation of IR specialists by creating the Graduate Certificate in Institutional Research in the School of Education.
Borden's extensive international reach includes assisting several higher education institutions in China to improve their infrastructure. In 2010, Borden received a Fulbright Specialist Award to begin a multiyear IR project with the University of KwaZulu-Natal in Durbin, South Africa, to address its most pressing issues. Borden has since served as an advisor to UKZN, providing critical insights to enhance student outcomes and quality.
Borden has also advanced institutional research as a profession by serving in a variety of roles, including president of the Indiana Association for Institutional Research and the Association for Institutional Research. He is an active member of the American Educational Research Association and the Association for the Study of Higher Education, the top research organizations in education. In 2014, he was named the project director for the Carnegie Classification of Institutions of Higher Education.
Borden has served as a reviewer and editorial board member for various prestigious higher education academic journals including the Research in Higher Education and the Review of Higher Education. He received the 2011 Outstanding Service Award from the Association for Institutional Research. Borden is also a recipient of the 1998 Service Award from IUPUI and the 2020 W. George Pinnell Award for Outstanding Service from IU.