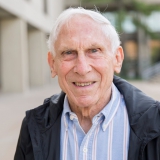 Awards
IUPUI Spirit of Philanthropy Award (2002)
Fulbright Award (1981)

Venezuela
About Victor Childers
Victor Childers, Professor Emeritus in International Business, was a member of the IU Kelley School of Business Indianapolis faculty for twenty-nine years. He hailed from Kirksville, Missouri and earned his bachelor degree from Northeast Missouri State University. Dr. Childers completed both an MBA and Doctoral degrees from Indiana University.
In addition to teaching and administrative assignments on both the IUPUI and IU Bloomington campuses, he held project appointments in Bangladesh, Thailand and the Netherlands. His teaching and research centered on International Business, Management, and Economic Development. Following an impressive and distinguished career, retirement has included a variety of teaching, consultancy and globe-spanning mission projects in Russia, Vietnam, the Ukraine, Spain, Chile, Cuba, and the Dominican Republic. Dr. Childers served on numerous boards, most notably the Indiana Council On World Affairs and the Indianapolis Committee On Foreign Relations.
Dr. Childers was passionate about the value of international study and created a lasting legacy with The Dr. Victor E. Childers International Study Award presented annually to Kelley Indianapolis students for study abroad.