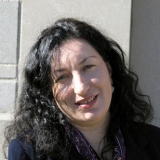 Awards
Fulbright Award (2005)

Poland
About Halina Goldberg
Halina Goldberg is a professor of music in musicology and chair of the Department of Musicology in the IU Jacobs School of Music. She also serves as the interim director of the Russian and East European Institute at the Hamilton Lugar School of Global and International Studies and adjunct professor in the Department of Slavic and East European Languages, as well as affiliate faculty of the Robert A. and Sandra S. Borns Jewish Studies Program at IU. Goldberg joined the Jacobs School of Music faculty in 1998. She received her M.A. from Queens College in 1989 and her Ph.D. from City University of New York in 1997.
Goldberg's interests focus on the interconnected Polish and Jewish cultures. Much of her work is interdisciplinary engaging the areas of cultural studies, music and politics, performance practice, and reception, with special focus on 19th- and 20th-century Poland and Eastern Europe, Chopin, and Jewish studies. She is the author of Music in Chopin's Warsaw (Oxford University Press, 2008; Polish translation, O muzyce w Warszawie Chopina, 2016), and editor of The Age of Chopin: Interdisciplinary Inquiries (Indiana University Press, 2004).
Goldberg is the recipient of the 1998 Wilk Award for research in Polish music from the Polish Music Reference Center at the University of Southern California, Los Angeles and a 2005-2006 Fulbright-Hays Faculty Research Abroad grant in Poland.