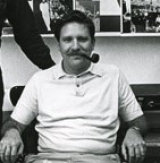 Awards
Guggenheim Fellow (1966)
About Albert Edward Elsen
Elsen was born in New York City earning his bachelor's, master's and doctoral degrees at Columbia University.
He taught at Carleton College from 1952 to 1958, and Indiana University from 1958 to 1968. He was visiting professor at Stanford in 1963-64 and joined their faculty in 1968.
He was recognized by Fulbright, the American Council of Learned Societies, Guggenheim (1966) and Senior National Endowment for the Humanities fellowships.
Elsen authored Purposes of Art, an introductory text, Rodin's Gates of Hell, Rodin, In Rodin's Studio, The Sculpture of Henri Matisse, The Origins of Modern Sculpture and Modern European Sculpture 1918-1945, and numerous other publications.