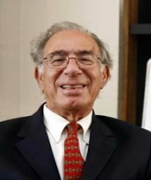 Awards
John W. Ryan Award for Distinguished Contributions to International Programs and Studies (1998)
Guggenheim Fellow (1967)
About Albert Valdman
Albert Valdman (A.B., Romance Languages, University of Pennsylvania, M.A. and Ph.D. 1960, French Linguistics from Cornell University) has taught at the Foreign Service Institute of the U.S. Department of State and the Pennsylvania State University before joining the faculty of Indiana University. Now completing his thirty-ninth year on the Indiana University faculty, Valdman serves as chairman of the Committee for Research and Development in Language Instruction and directs the Creole Institute. He was chairman of the Department of Linguistics between 1963 and 1968. He has held visiting appointments at the University of the West Indies (Jamaica) and at the University of Nice and taught in summer institutes at Harvard University and the University of Oregon.
Valdman has held Guggenheim, NATO-NSF, Fulbright, and Senior Fulbright Research fellowships; he was named Commandeur dans l'Ordre des Palmes Académiques of France, and he received an honorary doctorate from the University of Neuchâtel. His research and professional interests span a broad range of areas in applied and descriptive linguistics, including second language acquisition research, foreign language teaching, pidgin and creole studies, and French linguistics.
Among his recent publications are: Bien entendu! Introduction à la phonétique française (1993) and A Dictionary of Louisiana Creole (1998). In addition to the publication of more than 200 articles and reviews in a variety of language journals, he has been involved in the preparation of foreign language materials, including a major high school French series and beginning French college textbooks. He is founder and editor of the journal Studies in Second Language Acquisition (Cambridge University Press) and a review editor of the French Review.
Valdman has served as secretary-treasurer of the American Association for Applied Linguistics, as president of the International Association of Applied Linguistics, and as president of the American Association of Teachers of French. He is also a member of three major francophone committees in the area of the language sciences and vice-president of the International Committee of Creolists.