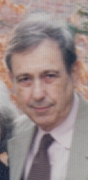 Awards
Guggenheim Fellow (1966)
About Alfred David
Alfred David was born in Hamburg, Germany, in 1929. His family left Germany in 1938 and settled in Houston, Texas, where he learned English, and he went on to earn a doctorate in English literature at Harvard University.
David had a long and distinguished career as a beloved teacher and a scholar of Chaucer and medieval English literature. He served on the faculty of Indiana University's Department of English before retiring in 1994. David was a recipient of Guggenheim (1966) and Fulbright Research Fellowships, and he was a past president of the New Chaucer Society, the international society of Chaucer scholars.
David was known for his editorship of the medieval section of the Norton Anthology of English Literature and for his role as advisor to Seamus Heaney, the Nobel laureate, in the production of his prize-winning translation of Beowulf.