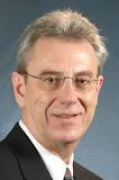 Awards
Guggenheim Fellow (1984)
About Arne L. Kalleberg
Arne Kalleberg's initial appointment at IU Bloomington was as an assistant professor of sociology in the College of Arts and Sciences in 1975. He was promoted to associate professor in 1980 and recommended for tenure in 1982. He was promoted to full professor in 1985 before resigning to take the position as professor of sociology at the University of North Carolina at Chapel Hill, where he is currently the Kenan Distinguished Professor of Sociology and adjunct professor of public policy. He obtained a B.A. magna cum laude with honors in sociology (1971) from Brooklyn College and an M.S. (1972) and Ph.D. (1975) from the University of Wisconsin at Madison.
Kalleberg studies the nature and consequences of work in comparative perspective. His current projects include an analysis of precarious work in Asia (Japan, Democratic People's Republic of Korea, Indonesia), how changing work arrangements in the United States and Europe affect both work and non-work life (e.g., families), and the factors influencing the mobility of low-wage workers in the U.S.
Kalleberg received a fellowship from the John Simon Guggenheim Foundation to study work and workers in industrial societies (1984) and grants from the Alfred P. Sloan Foundation (2001), the National Institute of Occupational Safety and Health (2003), the Andrew W. Mellon Foundation (2010), and the Russell Sage Foundation (2015). He is a member and has served as secretary and president of the American Sociological Association and is currently the editor of Social Forces: An International Journal of Social Research.