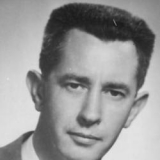 Awards
Guggenheim Fellow (1959)
About Chase C. Mooney
Chase Mooney began his career at IU Bloomington as a member of the history faculty in 1946. He was promoted from assistant professor to associate professor in 1951 and from associate professor to professor in 1961. He remained at IU until his death in 1973. He was a professor of history. Mooney received a B.A. magna cum laude (1935), M.A., and Ph.D. in history (1939) from Vanderbilt University, where he was elected Phi Beta Kappa and a Rosenwald Scholar (1938-1939). He taught at Brenau College (1939-1942) before going to Washington, DC, during World War II to serve as a senior historian for the Army Air Force (1942-1945). He also taught at Vanderbilt University, Southern Methodist University, and the University of Mississippi, and was a visiting professor at John Hopkins University and Alaska Methodist University during this time.
Mooney was awarded a Guggenheim Fellowship in U.S. History in 1959 from the John Simon Guggenheim Memorial Foundation.
Mooney passed away in Bloomington, Indiana, on April 29, 1973.