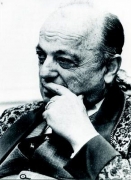 Awards
Guggenheim Fellow (1956)
About Clifford A. Truesdell III
Clifford Truesdell joined the faculty at IU Bloomington in 1950 as professor of mathematics. While at IU, he founded the Journal of Rational Mechanics and Analysis with T.Y. Thomas. The first volume debuted in January 1952, and after only five volumes were published, the journal's name was changed to the Archive for Rational Mechanics and Analysis. Truesdell resigned from IU in 1961 for an appointment as professor of rational mechanics at Johns Hopkins University. He retired from JHU in 1989 as professor emeritus.
Truesdell received both a B.Sc. in mathematics and physics (1941) and a M.Sc. in mathematics (1942) from the California Institute of Technology. His first position was as an assistant in mechanics in the School of Mathematical Mechanics at Brown University. While there, he received a certificate in mechanics (1942). The following year, he received a Ph.D. from Princeton University. He then worked at Michigan University as an instructor of mathematics (1943-1944), at the Massachusetts Institute of Technology in the radiation laboratory (1944-1946), at the U.S. Naval Ordnance Laboratory as chief of the Theoretical Mechanics Subdivision (1946-1948), and at the U.S. Naval Research Laboratory as head of the Theoretical Mechanics Section (1948-1950). All the while, he had continued teaching at the University of Maryland, College Park, as a lecturer (1946-1947), assistant professor (1947-1949), and associate professor (1949-1950). Truesdell continued as a consultant for the U.S. Naval Research Laboratory (1951-1955) and the U.S. National Bureau of Standards (1950-1962) while also teaching at IU.
Throughout his career, Truesdell received many honors. The most recent being the Theodore von Kármán Medal from the American Society of Civil Engineers for distinguished achievement in engineering mechanics (1996).
Truesdell passed away on January 14, 2000, in Baltimore, Maryland.