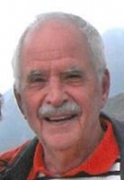 Awards
National Academies (1981)

American Association for the Advancement of Science
Guggenheim Fellow (1977)
About Cornelis Klein
Cornelis Klein had a long and distinguished career in mineralogy.
He was born in Haarlem, the Netherlands in 1937 and emigrated to Canada at age seventeen. He earned both a bachelor's and master's degree from McGill University in Geology. Kase then earned a Ph.D. in Geology at Harvard University and was a faculty member there for seven years.
While a tenured professor in the Geology Department at the Indiana University, Bloomington, Klein earned a prestigious Guggenheim Fellowship in 1977. In 1984, Klein served as Professor and Chair in the Department of Earth and Planetary Sciences at the University of New Mexico until his retirement as Professor Emeritus.
A dedicated teacher and scholar, Klein drew much satisfaction from preparing lectures and inspiring students. He passed away on June 1, 2016.