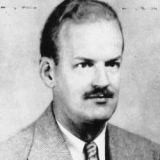 Awards
Fulbright Award (1963)
Guggenheim Fellow (1954)
About David Howard Dickason
David Howard Dickason was a professor of English at Indiana University for nearly three and half decades. He first joined IU as an instructor in 1939 and was promoted to assistant professor in 1943, associate professor in 1947, and full professor in 1953. In 1950, he became the first director at IU for the Orientation Program for Foreign Students, a program sponsored by the Department of State, of which he served for three summers. From 1956 to 1958, he traveled to Bangkok, Thailand with the IU program in teacher education where he served as an advisor in humanities and literature at the College of Education. Prior to IU, Dickason spent much of his time teaching abroad as an English teacher at the Colegio Americano in Barranquilla, Colombia from 1929 to 1930; Prince Royal's College in Chiangmai, Thailand from 1931 to 1935; and five years following at Judson College in Rangoon, Burma. He became an expert on American and Far Eastern cultures and during World War II, he worked with the Far East Division in Washington, D.C. from 1944 to 1946. Dickason received his A.B. from the College of Wooster in 1929, his M.A. from the University of California at Berkley in 1931, and his Ph.D. from Ohio State University in 1940.
Dickason received several grants and fellowships including a Guggenheim Fellowship from 1954 to 1955 and Fulbright Senior Research Fellowship to England from 1963 to 1964.
Dickason passed away on April 18, 1974.