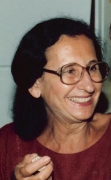 Awards
Guggenheim Fellow (1970)
About Dorrit C. Cohn
Dorrit Cohn graduated with a Bachelor of Arts in Physics from Radcliffe College in 1945 and the following year with a Master of Arts in Comparative Literature. She delayed her pursuit of a doctorate from Yale University to focus on her marriage and motherhood. She resumed her doctoral pursuit in 1962 and received a doctorate in German from Stanford University. Her first academic position was as a lecturer in German in the Department of Germanic Studies at IU Bloomington for the 1964-1965 academic year. She was an assistant professor in 1967-1968 when she took a leave of absence to complete a writing project. She was promoted from assistant professor to associate professor and appointed to the Graduate School faculty in 1968. She was promoted from associate professor to professor in 1970. She remained at IU until June 1971 when she was hired at Harvard University as a professor of Germanic languages and literatures. She joined Harvard's Department of Comparative Literature in 1984 and was one of only five women to be awarded tenure at that time. She retired as the Ernest Bernbaum Professor of Literature Emerita in 1995.
Cohn was "internationally recognized as a major literary theorist" according to The Harvard Gazette. She was awarded the John Simon Guggenheim Fellowship in German and Scandinavian literature in 1970 while still on the IU faculty. She was also awarded the Radcliffe Graduate Society Medal in 1982, the Phi Beta Kappa Teaching Award at Harvard in 1984, and won the Modern Language Association's Aldo and Jeanne Scaglione Prize for Comparative Literary Studies in 1998 for the book, The Distinction of Fiction. She was presented with the Wayne C. Booth Lifetime Achievement Award from the International Society for the Study of Narrative in 2011.
Cohn passed away on March 10, 2012 in Durham, North Carolina.