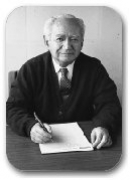 Awards
Guggenheim Fellow (1965)
About Ernest Wenkert
Ernest Wenkert joined the faculty at IU Bloomington as professor of chemistry (with tenure) in 1961. He was appointed to the faculty of the Graduate School in 1963. He took a leave of absence from IU for the 1964-1965 academic year to serve as acting head of the Department of Organic Chemistry at the Weizmann Institute of Science in Rehovoth, Israel. In 1969, he became the Herman T. Briscoe Professor of Chemistry at IU. In 1974, he resigned to accept the E.D. Butcher Professor of Chemistry titled professorship at Rice University. Wenkert was also the chairman of the Department of Chemistry at Rice from 1976 to 1980 before departing to join the faculty in the Department of Chemistry at the University of California, San Diego, in 1980. He taught at UCSD for 14 years before retiring in 1994 as professor emeritus.
Wenkert received B.S. (1945) and M.S. (1947) degrees in chemistry from the University of Washington and a Ph.D. in organic chemistry from Harvard University (1951). He taught at Iowa State University as an organic chemistry professor in the Ames Laboratory (1951-1961) prior to his tenure at IU.
Wenkert was interested in organic chemistry, and he published widely in this area. He received the Lifetime Achievement Award in 2002 at the 10th Symposium on the Latest Trends in Organic Synthesis, the Ernest Guenther Award from the American Chemical Society (ACS) in 1971, and was an emeritus member of the ACS.
Wenkert passed away on June 20, 2014, in La Jolla, California.