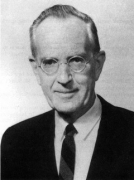 Awards
Honorary Degree (1975)

D.S.
Doctor of Science
Commencement
Indianapolis, Indiana
Presenter: John William Ryan
About Irvine Heinly Page
Dr. Irvine Heinly Page achieved international recognition as a medical research scientist, physician, professional leader, and author and editor. He was born in Indianapolis, Indiana, on January 7, 1901, and his father, Dr. Lafayette Page, was a member of the faculty of the Indiana University School of Medicine.
Dr. Page earned an undergraduate degree in 1921 from Cornell University. As a teenager, he played the banjo and once said he was "sorely tempted" to become a professional musician. But lured by biochemistry as an undergraduate, he decided to follow his father into medicine. He earned his M.D. degree in 1926 from the Cornell Medical College and completed internships at Presbyterian and Bellevue Hospitals in New York City.
From 1928 to 1931, he was Director of the Chemical Division of the Kaiser Wilhelm Institute in Munich, Germany, where he set up a department to study the chemistry of the brain. He wrote a text on the subject after he returned to New York in 1931, where Dr. Page served until 1937 as an Associate Member of the Rockefeller Institute for Medical Research (now Rockefeller University). From 1937 to 1945, he was Director of the Lilly Laboratory for Clinical Research at Marion County General Hospital in Indianapolis (which later became Wishard, and finally Eskenazi Health), where he worked on heart and circulatory disorders. Dr. Page was one of the first to recognize that high blood pressure was a disease and amenable to treatment, and it was during his work at Lilly that he developed therapies to reverse malignant hypertension, the most severe form of high blood pressure.
Following his service at Lilly, he became Director of the Research Division of the Cleveland Clinic Foundation in Ohio, a position he held from 1945 to 1966. Through his research in Cleveland, along with earlier studies in New York and Indianapolis, Dr. Page played an important role in the discoveries of crucial compounds in the body that affect blood pressure. Identification of the compounds helped to begin to unravel the complex nature of hypertension and to supplant a widely held concept that high blood pressure could be traced to a single causative agent. Dr. Page is credited with helping to make Cleveland a leading center of research on high blood pressure and heart disease. In 1966, he became Senior Consultant, and continued in an Emeritus status at the Cleveland Clinic until his death in 1991.
His earliest contributions, mostly on the neurochemistry of the brain, were published in the early 1930s, and his final book, Hypertension Research: A Memoir: 1920-1960, in 1988. He is perhaps best known for the co-discovery of serotonin in 1948, although his preeminence is a matter of record in four other areas: the renin-angiotensin system, the mosaic theory of hypertension, treatment of hypertension, and public and professional advocacy of the recognition of this condition and its effects in daily life.
Dr. Page made significant contributions to the study of neurochemistry and the physiology of the circulation in relation to disease states. He was co-discoverer of angiotensin and collaborated in determining its structure and synthesis. An authority on the diagnosis and treatment of hypertension, much of his research has helped shape the modern understanding and treatment of high blood pressure and heart attacks.
An estimated 61 million Americans have high blood pressure, and public education campaigns about the need for early treatment, which Dr. Page encouraged, have helped to reduce the death rate from its complications. For example, from 1979 to 1989, the death rate from stroke dropped by 31.5 percent, from 41.6 per 100,000 to 29.7 per 100,000.
Dr. Page has held the presidencies of the American Heart Association (1956 - 57), the American Society for the Study of Arteriosclerosis, the Society for Experimental Biology and Medicine, and the American College of Clinical Pharmacology and Chemotherapy. He was also a former vice president of the American Association for the Advancement of Science, and an honorary fellow, trustee, or member of numerous scientific and professional associations, several of which he helped to establish as a founding member. He was elected to the National Academy of Sciences in 1971.
Dr. Page also held advisory posts to the United States Public Health Service and the World Health Organization. In addition, he rendered advisory and editorial services to several professional journals including Modern Medicine.
Dr. Page received many honors for his work from notable organizations including the American College of Physicians, the American Medical Writers' Association, and the American College of Cardiology. He was on the cover of Time magazine's October 31, 1955 issue. He received a number of prestigious awards - the Ida B. Gould Memorial Award of the American Association for the Advancement of Science (1957); Albert Lasker Award (1958); Gairdner Foundation Award (1963); Distinguished Award of the American Medical Association (1964); Oscar B. Hunter Award (1966); Passano Foundation Award (1967); and the Stouffer Prize (now the Novartis Award) for Hypertension Research in 1970.
The American Heart Association Irvine H. Page Young Investigator Research Award and the Irvine Page - Alva Bradley Lifetime Achievement Award are named in his honor.
Dr. Page passed away on June 10, 1991, in Hyannis Port, MA.