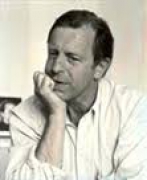 Awards
Guggenheim Fellow (1993)
About Gordon Brotherston
Gordon Brotherston is currently an emeritus professor in the Department of Literature, Film, and Theatre Studies at the University of Essex in Colchester, United Kingdom. He received his Bachelor of Arts from the University of Leeds in 1961 and his Ph.D. in 1965 from St. Catharine's College at the University of Cambridge. He was a professor in the Department of Spanish and Portuguese in the College of Arts and Sciences at IU from 1990 to 1993, receiving tenure in 1992. He resigned from IU in 2001. He was also a professor in the Department of Spanish and Portuguese at Stanford University in 2004.
Brotherston has published mainly in the areas of Hispanic, Latin American and Native American Literatures, and literary translation. His books include Manuel Machado (1968), Latin American Poetry (1976), The Emergence of the Latin American Novel (1977), and Image of the New World (1979). He has published the following volumes on native script and chronology: A Key to the Mesoamerican Reckoning of Time (1982), Calendars in Mesoamerica and Peru (1983, with A. Aveni), and Voices of the First America (1986). He has also published a number of studies of Mexican iconography and Native American literature, such as Book of the Fourth World: Reading the Native Americas through their Literature (1992) and Painted Books from Mexico: Codices in the United Kingdom Collections and the World they Represent (1995).
Brotherston received a Guggenheim Fellowship in Latin American literature in 1993 and took leave from IU for the 1993-1994 academic year.