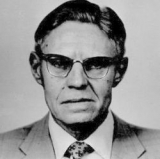 Awards
Guggenheim Fellow (1960)
About Hans Jaeger
Hans Jaeger began his academic career in the Department of Germanic Studies at IU Bloomington in 1947 as associate professor of German. He was appointed to the Graduate School faculty in 1948, promoted to professor in 1952, and named professor emeritus of German in 1968.
Jaeger received a John Simon Guggenheim Fellowship in German and Scandinavian Literature in 1960.
Jaeger passed away on February 1, 1971.