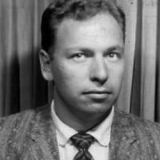 Awards
Guggenheim Fellow (1962)
About Herbert I. Hochberg
Herbert Hochberg began his career at IU Bloomington as an associate professor of philosophy in the College of Arts and Sciences in 1961. He was appointed to the Graduate School faculty in 1965. During his time at IU, he was awarded a Guggenheim Fellowship in Philosophy (1962) and a Fulbright Grant as a U. S. lecturer (1965). He took a leave of absence from IU for the 1962-1963 academic year for research at Cambridge University and for the 1965-1966 academic year to conduct research and lecture at the Philosophy Institute of the University of Gothenburg in Sweden. Hochberg resigned from IU at the close of the 1965-1966 academic year.
Hochberg is currently professor emeritus of philosophy at the University of Texas at Austin. He has been a professor of philosophy there since 1978. He received a B.A. (1950) and M.A. (1951) from Wayne State University and a Ph.D. in philosophy (1954) from the University of Iowa. He taught at Northwestern University from 1954 to 1961, The Ohio State University from 1966 to 1968, and the University of Minnesota from 1968 to 1978.
Hochberg has published over 100 papers and six books: Introducing Analytic Philosophy: Its Sense and Its Nonsense, 1879-2002 (2003); The Positivist and the Ontologist: Bergmann, Carnap and Logical Realism (2001); Russell, Moore, and Wittgenstein (2001); Complexes and Consciousness (2000); Logic, Ontology and Language (1984); and Thought, Fact and Reference: The Origins and Ontology of Logical Atomism (1978). These books deal mainly with topics in metaphysics, philosophy of language and mind, ontology, and the history of analytic philosophy. His recent articles include "A World of States of Affairs" (Nous, 1999) and "Propositions, Truth and Belief: The Wittgenstein-Russell Dispute" (Theoria, 2000).