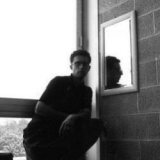 Awards
Guggenheim Fellow (1964)
About James J. McGarrell
James McGarrell spent the majority of his academic career at IU Bloomington (1959-1981). Prior to his tenure at IU, he taught at Reed College in Portland, Oregon, from 1956 to 1959 and after at Washington University in St. Louis until his retirement in 1992. He has been an artist in residence at Dartmouth College, Skowhegan School of Painting and Sculpture, the International School in Umbria, the Roswell NM AIR Program, and the New York Studio School.
McGarrell's paintings of interiors and landscapes are in permanent collections at the Hirshhorn Museum and Sculpture Garden (Washington DC), the Chicago Art Institute, the Rose Art Museum (Brandeis University), the Pennsylvania Academy (Philadelphia), and in New York at the Metropolitan Museum, the Museum of Modern Art, and the Whitney Museum of American Art to name but a few. He received a Guggenheim Fellowship in Fine Arts in 1964, the Jimmy Ernst Lifetime Achievement Award from the American Academy of Arts and Letters in 1995, and the Oscar Williams and Gene Derwood Award in visual arts from the New York Community Trust in 2008.
McGarrell passed away in Woodsville, Vermont, on February 7, 2020.