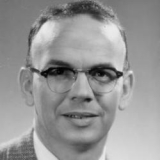 Awards
Guggenheim Fellow (1960)
About James E. Canright
James Canright received a Bachelor of Arts in Botany from Miami University (Oxford, Ohio, 1942) and a Master of Arts (1947) and Doctor of Philosophy in Biology (1949) from Harvard University. He attended the U.S. Coast Guard Academy (1942-1943) before rising from the rank of ensign to executive officer in the U.S. Coast Guard during his service (1943-1946) in WWII. During his graduate studies, he became a teaching fellow in biology at Harvard University (1946-1949). He began his academic career at IU Bloomington in the Department of Biology as an instructor of botany (1949-1952), was appointed to the faculty of the graduate school (1952), and then served as assistant professor (1952-1957). He was promoted from associate professor to full professor in 1963. He resigned from IU as professor of botany in 1964 after a 15-year career. He then took the position of professor and chairman of the Department of Botany and Microbiology at Arizona State University (1964-1972), followed by professor of botany (1972-1985), and finally, emeritus professor of botany when he retired in 1985.
Canright was named a Gulf Oil Company Fellow in Palynology in 1958. He did his research at Mene Grande Oil Company in Caracas, Venezuela. He was also awarded a John Simon Guggenheim Fellowship in plant sciences in 1960 and did his research in Indonesia and Malaya (1960-1961). He was a member/fellow and served in leadership roles of numerous professional societies: the Botanical Society of America, the American Association for the Advancement of Science, the Indiana Academy of Science, and the Arizona/Nevada Academy of Science to name a few.
James E. Canright passed away on April 9, 2008.